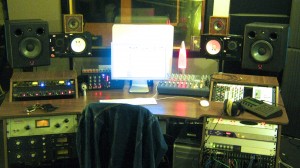 "When I am working with an artist from the pre-production stage to the tracking stage, I am always thinking about the best possible tracking options to help the overall mix. Mixing is my favourite part of making a record".
What is it?
More often, I find myself mixing without the artist in the room. Although I really love to work directly with the artist, unattended mixing has many advantages.
• Unattended mixing allows everyone in your band and support team the time and space away from the session to listen to a mix in multiple places, before offering your feedback to me.
•When you first listen to the new mix, it is an integral time. You should be in an environment where you are most comfortable – where you would normally listen to music.
•When you attend a mix session, you are in a highly modified control room, optimised for making music. Most mixes usually sound pretty good in this room (as it should), but what really counts is how the mix sounds to you in your home and on your own stereo.

Tips to Help
If I am not working with you in person, please give me as much information about how you would like your music to sound. Send me a rough mix and reference songs. Referencing bands, influences and providing links is helpful e.g. Youtube, Spotify, Soundcloud, and Band Camp links. By elaborating on points like, "we love the drums in this song" or "we want a different vocal sound in this song", I will gain a better understanding of how you want the track to sound.
In addition to your mix files, it is also helpful to provide a text document with all of your references. Things like, "we really want the acoustic to drive this song", or "think of the vocal as another instrument in this one".
All of this will help us all to be on the same page in regards to the overall production and direction of your song.

Now…..let's get geeky.
I use a hybrid mixing technique that utilises all of my outboard gear which is then summed through a SSL summing console. All mixes are 100% recall-able, even months after the mix has taken place. I'll upload an mp3 to dropbox for approval. Two recalls of the mix are included in the quote, so we can get the mix "just right".
Mix preparation
Request a Quote
You are most welcome to attend the mixing sessions, but it is more expensive.  Please indicate if you will be attending, when you Request a Quote.